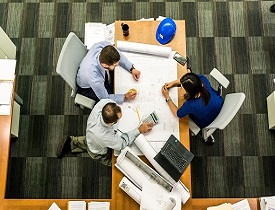 Implementing COBie
This course helps portfolio managers and owners understand the context and implications of Building Information Modeling (BIM) technology. With this understanding, owners develop their own requirements for "Better Information Management" to ensure they are not locked into long-term software maintenance contracts. This hands-on course will have facility/asset management teams creating and checking deliverables conforming to the international Construction Operations Building information exchange (COBie) standard. The course concludes with attendees developing an actionable plan for organization-wide use of COBie data to go from pilot to standard operating procedure including training and certification requirements for COBie-related jobs.
Recording is NOT permitted.
Course Instructor: Dr. Bill East, PhD, PE, F.ASCE, the inventor of the COBie standard and leader of the buildingSMART international COBie Certified Professional™exam.
Course Schedule:
Day 1. AM - Testable Information Deliverables
Our Changing Industry - "From Convention to Exposition"
Testable Deliverables - "What is COBie? How do You Know?"
Day 1. PM - The COBie Standard
COBie Standard - "NBIMS-US V3, Chapter 4.2, and Annex A"
COBie Spreadsheet - "Organizing Handover Data"
Day 2. AM - The COBie Design Deliverable
Hands On - "Manually creating COBie @ Design"
COBie During Design- "Delivering COBie using Autodesk Revit"
Day 2. PM - The COBie Handover Deliverable
Hands On - "Manually creating COBie @ Construction"
COBie During Construction - "Lean Handover"
Day 3. AM - Checking COBie Deliverables
COBie Checking Handover Data - "COBie Quality Control"
Real Change vs. Fake Change - "The COBie ScoreCard™"
Day 3. PM – COBie Discussion
Discussion - "Customizing the ScoreCard™"
Discussion - "Drafting New SOP's & Integration Strategy"