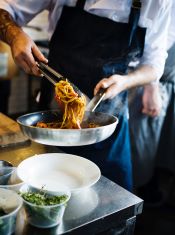 Nutrition and Foodservice Professional Training Pathway III B
Our ANFP-approved Nutrition and Foodservice Professional Training Pathway III(b) is designed for working professionals who have at least 2 years of noncommercial foodservice management experience and are looking to prepare for the Certifying Board for Dietary Manager's CDM Credentialing Exam.
This pathway is designed for candidates who have two years of non-commercial foodservice management experience. A student will be eligible for this program if they have a minimum of two years of work experience in a managerial or supervisory capacity in non-commercial foodservice that includes third-party oversight, such as CMS, TJC, state department of health,etc.
Managerial/supervisory experience is defined as on-the-job time in a full-time management capacity.
Non-commercial foodservice operations serve food as support within an institution such as hospitals, nursing homes, schools, military, correctional, or community feeding programs and are typically subsidized by the institution from which they opened.
They have third-party oversight by agencies such as CMS, TJC, local and/or state health departments, etc.
We recommend you contact CBDM (800-323-1908) to verify your eligibility to take this pathway before signing up for this course.
Required Textbooks (not included in course cost):
Dee Levgold and Kristi Salisbury, Foodservice Management -- By Design, 3rd Edition
Julie Zikmund, Nutrition Fundamentals and Medical Nutrition Therapy, 3rd Edition