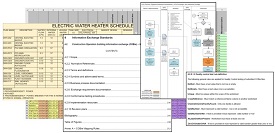 Intro to COBie
Delivering construction handover data using the Construction Operations Building information exchange (COBie) standard can be an added cost or an opportunity to provide accurate, timely information at less cost. The choice choose depends on your understanding of the COBie standard.
The COBie standard defines a set of information to replace traditional operations and maintenance manuals. COBie does not require a change to the design and construction practice but allows existing design and construction data to be extracted and then re-used throughout the project. Ultimately, the expense of finding, reproducing, and delivering construction handover data by conducting post-construction equipment surveys and culling through hundreds, if not thousands, of construction administration documents, can be eliminated.
To realize these efficiencies a shared understanding of the responsibilities of designers, builders, and owners is needed. Each party contributes to the goal of "Better Information Management." This course will provide those new to COBie a common understanding of the scope and organization of the COBie standard. For those who have already encountered COBie requirements, this course will organize COBie knowledge and fill in gaps which are needed to see the whole picture.
Every situation that relies on contracts requires that those writing contracts understand what is to be delivered. While many people will benefit from this course, owners will benefit most since owners must to understand the scope and application of the COBie standard to properly specify, check, and use high-quality, timely COBie deliverables.