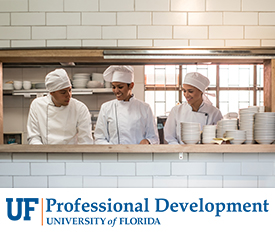 Nutrition and Foodservice Professional Training Pathways II & V
The University of Florida (UF) now offers ANFP-approved foodservice management and nutrition courses to meet multiple accelerated pathways to assist you in preparing for the Certifying Board for Dietary Manager's CDM Credentialing Exam. For your convenience we have bundled 2 foodservice and 1 nutrition course together to help you meet the ANFP requirements for pathways II or V. We also offer these courses individually.
This pathway bundle is designed for students who believe they qualify for pathway II or V.
Pathway II Requirements: This pathway is designed for candidates who hold a 2- or 4-year college degree in foodservice management or nutrition, 2-year culinary arts degree, or 2-year hotel-restaurant management degree.
Pathway V Requirements: This pathway is designed for candidates who hold an alternate 2-year, 4-year, or higher college degree. Students selecting this pathway must have at least 5 years of noncommercial foodservice management experience.
Non-commercial foodservice operations serve food as support within an institution such as hospitals, nursing homes, schools, military, correctional, or community feeding programs and are typically subsidized by the institution from which they opened.They have third-party oversight by agencies such as CMS, TJC, local and/or state health departments, etc.
In order to be eligible to take the Certifying Board for Dietary Managers® (CBDM®) credentialing exam, you MUST meet all of the requirements for the respective pathway you select. We recommend you contact CBDM (800-323-1908) to verify your eligibility or for answers to your questions regarding your transcript before signing up for any course(s).
Required Textbooks:
Dee Levgold and Kristi Salisbury, Foodservice Management -- By Design, 3rd Edition
Julie Zikmund, Nutrition Fundamentals and Medical Nutrition Therapy, 3rd Edition