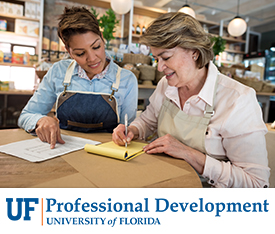 NFPT - Sanitation, Safety, & Business Operations in Foodservice Management
The Sanitation, Safety, & Business Operations course is the second of a two-part foodservice management series designed to prepare students for the foodservice management portion of the Certifying Board for Dietary Manager's CDM Credentialing Exam. This course meets the requirements for ANFP Pathways II, V.
While the most popular pathway to meet exam eligibility requirements is to successfully complete a training program approved by Association of Nutrition & Foodservice Professionals (ANFP), or Pathway I, we offer individual courses in nutrition and foodservice management for students who hold a degree but lack the required foodservice management and nutrition courses. By taking these courses, students can take other approved pathways (Pathway II or V) to take the Certifying Board for Dietary Managers® (CBDM®) credentialing exam (see below for more information about each pathway). The students will have 6 months to complete each course at their own pace. Students may take the courses one at a time or can enroll in multiple. For your convenience we offer a course bundle package, if you select the bundle package you will be enrolled in all three courses.
By the end of this course, students will:
Provide a safe and sanitary environment for employees
Exercise fiscal accountability
Utilize human resource management techniques
Provide appropriate quality nutritional care for the client
Meet all licensing and regulatory agency standards
Constantly strive for improved performance
Required Textbook:
Dee Levgold and Kristi Salisbury, Foodservice Management -- By Design, 3rd Edition